InDepth

™

- Refractory wall thickness tool
Request for more information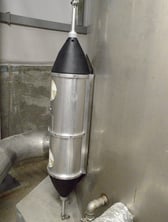 InDepth™ is the latest product from Tracerco's Process Diagnostics services and is the only tool that measures refractory wall thickness online and in real time. InDepth™ accurately defines the size of a known area of thin refractory and determines the full extent of the problem. This allows operators to effectively:
Prepare turnaround schedules,
Reduce resources and materials where no problems are indicated
Avoid any unexpected repair work that could extend the duration of a turnaround.
If you would like to find out more about how InDepth™ can save you time and money on your pre-shutdown planning, please provide your details using the form opposite.