Introducing NORM Complete
A full education, detection and diagnostics service
Tracerco are pleased to introduce NORM Complete, an integrated package of services that will effectively manage all of your Naturally Occuring Radioactive Material safety needs.
Educate - NORM Training and Advice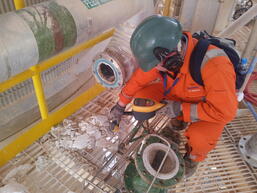 Tracerco offer a range of training, Radiation Protection Supervisor certified courses, management awareness of NORM, basic NORM awareness and practical use of NORM.
Detect - NORM Monitors and Surveys
Once you have undertaken a training course you will have acquired the knowledge to identify which equipment is best suited to monitoring NORM. Tracerco can also carry out NORM surveys and support during decommissioning and shutdowns.
Diagnose - NORM Analysis
If NORM has been detected, Tracerco can provide a full characterisation of the material along with interpretation as to whether NORM is classified as radioactive, non-radioactive or exempt. Our analysis suites are tailored to allow a decision to be made on the most appropriate disposal route.
If you would like more information on how our NORM package can satisfy your NORM needs, please fill out the form opposite and we will be back in touch shortly.